Partners With Gohigh On Vehicle-To-Infrastructure Project For Smart Transportation
[Shenzhen, China] - [December 16, 2020] – On December 15, 2020, the Smart LiDAR Sensor provider RoboSense announced a strategic collaboration with the leader in C-V2X communications system solution Datang Gohigh (GOHIGH). The cooperation is about advancing the commercially mass production development of Vehicle-To-Infrastructure(V2I) and smart transportation applications for the smart city.
Based on each other's technical and industrial advantages, RoboSense and GOHIGH will make joint efforts to develop smart transportation applications including Vehicle-To-Infrastructure (V2I) systems, roadside smart LiDAR solution and the fusion algorithms of LiDAR and camera, smart traffic optimization, C-V2X (cellular vehicle-to-everything) application, AI fusion Detection in IoV, and promote the development of smart transportations under scenarios like urban roads, expressways and smart industrial parks, mines, ports, etc.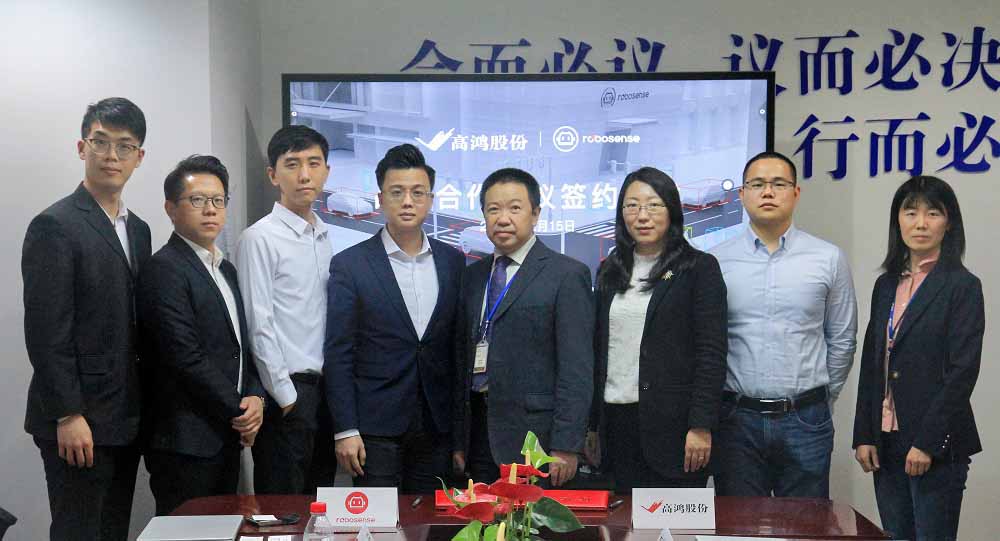 (Image: The two parties at the collaboration signing ceremony)
GOHIGH is a high-tech enterprise that has integrated data industry-related technologies, products and resources from Datang Telecom Technology & Industry Group and it is leading in technologies and applications in the area of ICV and Vehicle-To-Infrastructure. It started the standard R&D of C-V2X technology (LTE-V2X and NR-V2X) with China's proprietary intellectual property rights, and relevant product development and marketing promotion in 2012. Its major products include the automotive-grade modules based on the company's self-developed chips, OBU (on-board unit), RSU (roadside unit), C-V2X cloud-based platform and CA Security Certification. GOHIGH has commercially deployed its technologies and applications in several domestic ICV demonstration zones and vehicle-road cooperation projects.
RoboSense provides smart and high-performance roadside LiDAR solutions (including solid-state MEMS LiDAR) that are widely deployed in the V2I applications. The solution incorporates advanced AI perception algorithms to provide high-definition, accurate, real-time and comprehensive environment information for V2I applications, and eliminates the limitation of perception accuracy, computing power and cognition of autonomous vehicles single system.
Zhao Desheng, the Deputy General Manager of GOHIGH said: "2020 is the first year of the large-scale deployment of vehicle-road collaboration in China, we will work together to create a safer, more reliable, and easily-deployed LiDAR-based perception solution for vehicle-to-roadside-infrastructure".
RoboSense Co-founder and Executive President Mark Qiu said: "RoboSense is committed to helping the industrialization of V2I applications through smart LiDAR perception systems. The cooperation with GOHIGH will effectively promote LiDAR and multi-sensor fusion solutions' deployment in vehicle-to-roadside-infrastructure, and help to advance the development of smart transportation as well as explore more new application cases of the intelligent network."
Press Contact:
Cassie Gong, RoboSense PR Manager
sqgong@robosense.ai
86-18620031448